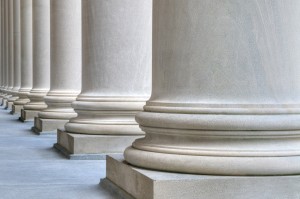 Crux Legal is unique in the business litigation field. Experience has revealed to Crux that the level of predictability businesses want and need in connection with business disputes largely is missing and unavailable. Crux exists to provide additional predictability to its clients, including cost predictability.
Knowledge, expertise and skill are important qualifications, but enormously difficult and stressful aspects of the litigation process are unknown cost and risk. Business lawsuits often are expensive, and, unfortunately, clients generally face the risk of open-ended fees. While no one can predict with 100% certainty how a lawsuit will progress, who will get involved, or how much work it will entail, Crux Legal believes there is more predictability than many think.  More importantly, Crux puts its money where its beliefs are and alleviates cost uncertainty through set, value-based fee agreements.
Crux Legal's unique fee system starts with a detailed discussion of client risks, opportunities, needs, options, and goals. A proposed set fee structure is then developed that is comprehensive and alleviates the uncertainty associated with unpredictable hourly fees.  The proposal is then refined through additional discussion and evaluation, and, if ultimately agreed upon, serves as the basis for the engagement.